Enroll your child at
Chubby Cheeks Nursery!
A place where they will
Why Chubby Cheeks Nursery
is the Best for your Child?
Chubby Cheeks Nursery is an Award Winning, British Curriculum Nursery with 26 conveniently located branches in UAE. The nursery is highly reputed for its warm, friendly and qualified staff, excellent facilities and healthy, safe and secure environment. Chubby Cheeks Nursery accepts children from the age of 45 days to 5 years in Dubai branches.
With prestigious Government Partnerships, qualified and experienced staff, state of the art facility, stimulating learning environment, we are a parent's first choice and a child's second home; a place where every child gets a life enriching learning experience and an environment where they 'Grow with Love'!
Embracing Inclusion & Diversity No Child Left Behind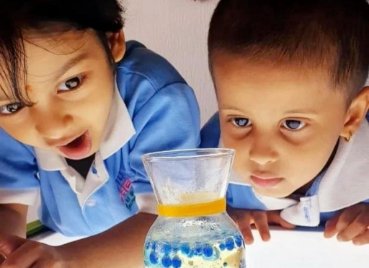 Inspiring World Class Environment
Health, Safety & Hygiene - A Priority
Parents as Partners - Daily Updates
Qualified Early Years Experts - Best Experience for your Child
I would like to thank all the staff there specially the teacher, assistant teacher and nurse. They are make sure my son safe and contact me everything that happen at school. They even called me to tell all the detail…
The best Preschool I have come across, my kid loves to go to school each and everyday she gets bored even if I don't send her a single day also I mean to say they are that much motivated and engaged with many activities in school…
My Son (Advik) has settled in very well and loves the Chubby Cheeks Nursery Karama (Specially class rooms activities & playing area). This is all because of the wonderful staff and care that is given to the children…
My son Govind is having a great time in the CCN. His class teacher Ms. Lorygean is a great teacher. She is so patient and is excellent in managing kids. She makes the kid comfortable and gives the best care to encourage and motivate kids…
First of all me & my husband just want to thank all the staffs of CCN Al Nahda branch through of them our son Zac Joaquim enjoyed a lot of the entirely 4 months of his school days 🤩