At Chubby Cheeks Nursery, we have left no stone unturned to ensure your child's health and safety at our premises. The nursery is equipped with a clinic, and a full time DOH registered nurse is always on duty. Our contracted pediatricians will not only check height, weight and temperatures, they also provide our children with audio screening, eyesight checkups and other developmental checks. All teachers and caregivers are trained in Early Years Education and are First Aid/CPR trained. Risk assessments are done prior to the start of any day, as well as prior to any excursion. The children to staff ratio prescribed by the Ministry is duly maintained in all classes.

Chubby Cheeks Nursery is designed using the guidelines provided by the UK Office for Standards in Education ( OFSTED ). The classrooms are extremely spacious, with high ceilings and abundant natural light. The nursery has anti-skid flooring and the walls are painted with lead free, non toxic pleasing colours. Air purifiers are installed throughout the nursery to minimize risk of infection. Smoke detectors and Fire alarms are present in each zone. Chubby Cheeks Nursery is strictly a non-smoking premises. Our toys and equipment are lead free, non toxic and conform to standards such as the British Standards Institution (BSI); the International Organization for Standardisation ( ISO ); and the American National Standards Institute ( ANSI ).

At Chubby Cheeks Nursery cleaning is a priority! Premises are thoroughly cleaned several times in a day and all toys are regularly sanitized. Children are taught the importance of hygiene and healthy habits, such as washing hands and brushing teeth. Hand sanitizers are installed in each classroom. The outdoor playground is fully sheltered and has thick rubber padding. Dangerous swings and trampoline are intentionally missing. From the toilets to the pantry, child safety has been strongly considered.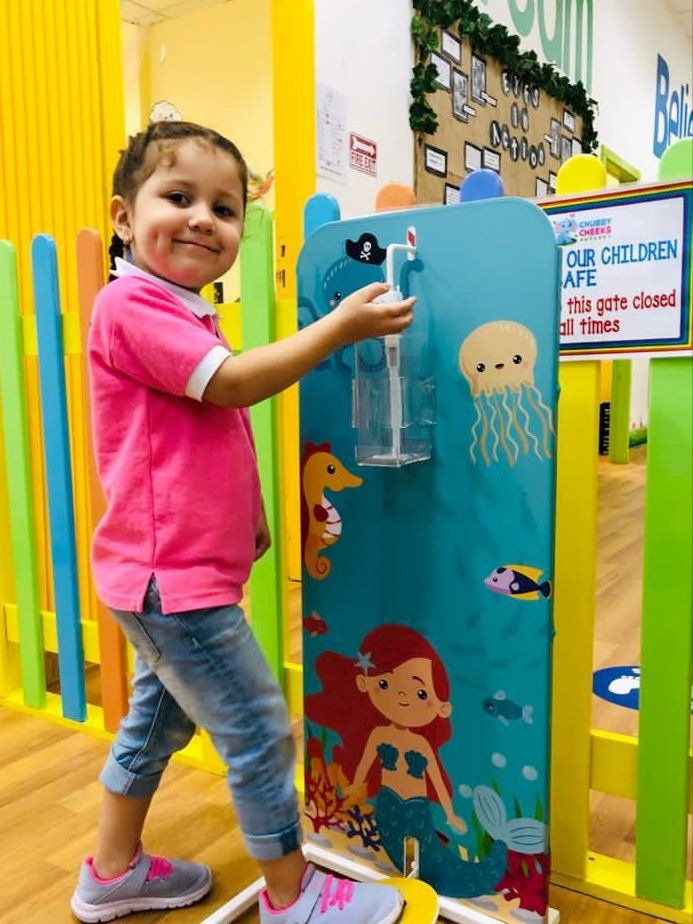 At the heart of Chubby Cheeks Nursery is our qualified and caring staff. Our nursery is round the clock live monitored via CCTV and security cameras. A security system is installed at the entrance. All visitors must sign in at the reception, and unidentified visitors are not allowed to enter in the classrooms. Children are handed over only to guardians authorized by parents in the consent form. Safe, air-conditioned transport with first aid boxes, fire extinguishers and a female bus monitor will drop your child safely home and hand them over to only the designated person.